About
See Me is a creative participation project which ran over Spring-Summer 2023, alongside the development of our play, Liberation Squares by Sonali Bhattacharyya.
Supported by funding from Awards for All and the Thomas Farr Charity, we delivered a series of free weekly workshops for Nottingham-based, young Muslim women, where they collaborated with us to create their own short comic inspired by the story and themes of Liberation Square. Workshops were led by graphic novelist Sayra Begum.
The Workshops
In the introductory workshop, Begum introduced autobiographical graphic novels based on Islamic girlhood including: Marjane Satrapi's Persepolis, Priya Huq's Piece by Piece, Sabba Khan's The Role We Play, Huda Fahmy's Who F Are You? and her own graphic novel Mongrel. Then, the focus turned to fiction: Wilson & Alphona's Ms. Marvel, Deena's Qahera, Naif Al-Mutawa's The 99.
We then discussed how Muslim women are usually portrayed in the media, and how they could take back control of their own narrative. We discussed how fiction and non-fiction storytelling could be used to communicate some of the ideas they wanted to express: devotion to faith, trying to fit-in, judgment, community and happiness.
The group brainstormed ideas together and after receiving feedback on their initial idea, they started to plan their stories by bullet pointing key moments. They discussed story shapes and how they could make their idea work within a four page comic.
Begum introduced fundamental graphic novel features:
Panels (different shapes and sizes)

Pacing (use of panels, amount of words and detail that affect pacing)

Gutter (different types of panel transitions)

Speech Balloon (order to read speech bubbles in, on and off panel dialogue)

Thought Balloon (visual signifiers and use of contradiction between speech bubbles)

Narration (contextualise the scene and can use character's narration from present alongside speech from the past)

Sounds Effects (different styles and sound)

Flashbacks (how to introduce flashbacks)

Movement Markers (add motions to panels)
In following sessions, they designed their characters, experimented with style and visually planned the pages using thumbnails. Below are thumbnails Ayesha Waseem Ahmed created on the theme of fitting in.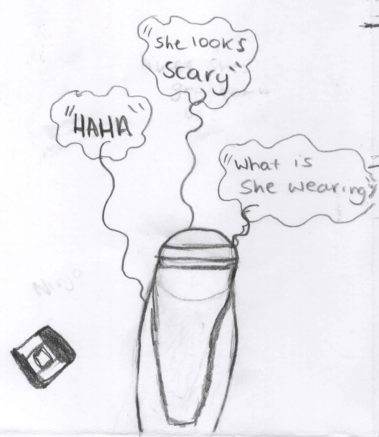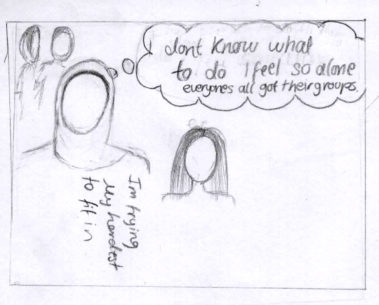 The last two workshops took place in the Nottingham Playhouse with new art materials.
The Result
We have collated the outcome from the workshop in key reoccurring themes.
Happiness
Sana Mir initially pitched a thriller story: a young woman discovers a underground lab, as she is exploring the lab she hears footsteps and tries to hide. She accidently knocks over and smashes a flask filled with a mysterious substance. She wakes up in hospital and strange things start to happen.
After planning this narrative, Sana changed direction and decided to express faith through The Humble Heroine. The protagonist had a seemingly successful life; 'Ayesha has the dunya (world) and she was not happy.' For Sana, happiness is achieved when we help others.
Fitting-in
Halima Raja wrote Aisha The Hijabi Hero. The story follows Aisha, a student who does not fit in with any crowd at school, even with the other Muslim girls. One day, she discovers a superpower, she can control time and be in multiple places at once. She uses this power to do good things, spread kindness and spread truth. She wants to stop bullying and Islamophobia.

Empowerment
Anniyah Saghir also explores the desire to fit in whilst wearing a Hijab. The protagonist is advised to 'just take it off, that's what I did' by a fellow Muslim. During the night, she is transported through the dream world and finds confidence and is empowered to take ownership of the Hijab because of her personal connection to her faith.

Community
Anisah Hussain used her comic project, Unity to reflect on division.
The narrative begins by reflecting on what it means to fit in. Many of the participants in the project, were a part of the Muslim girl scout group. This is reflected in this comic by Anisah. She begins the story with three characters each expressing their desire to fit in. This leads them to join the scouts. They ignore the antagonist trying to push them a part using their differences and work together to complete their first scout challenge successfully.
Relationships
Hana Mahmood created a wordless narrative which expresses tender relationships. She spoke about a protagonist who sought to better herself through her faith, but her parents worried for her safety because of her visible religiosity. The protagonist however, in her strength and confidence refuses to tone down her Islamic-ness. The protagonist eventually persuades her parents to let her express her faith through her character. 
Concluding the Project
Participants were invited to the reading of Liberation Squares along with guest speaker Shazia Nazir. Following the reading of the play, there was a round table discussion where we reflected on the themes explored in the comics and the play. Below is an image taken from the event, featuring the See Me project staff, actors, director and writer from the reading.