WRECK
A co-production between Fifth Word and Nottingham Playhouse
Winner of the Fifth Word Award for Most promising Playwright 2015
"I'M TELLING YOU WHAT HAPPENED! BUT YOU DON'T – NO ONE BELIEVES ME."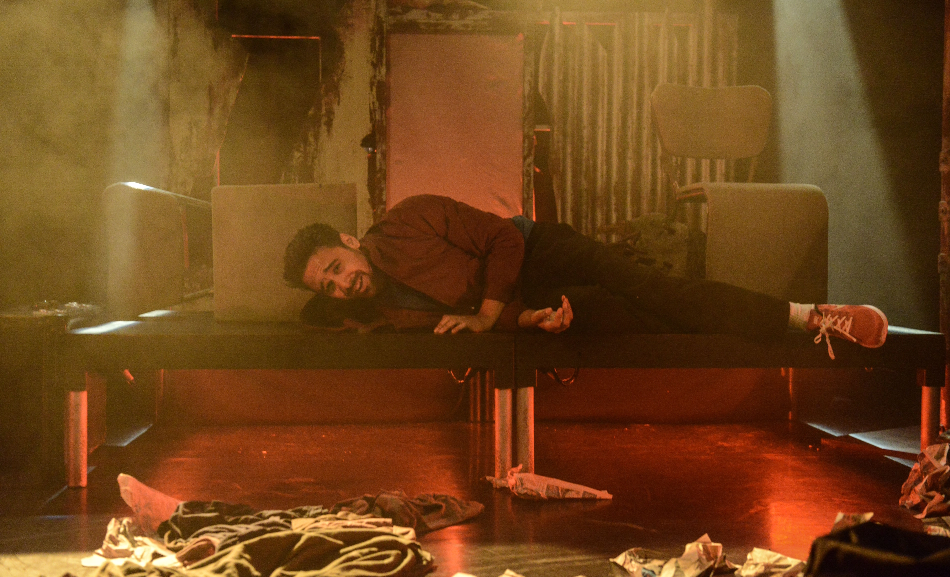 WRECK premiered in a 2-week run at Nottingham Playhouse in September 2017.
An easy-going Nottingham lad boards a train, fresh from visiting his girlfriend. His world is flipped upside down when the train never completes its journey.
As first impressions derail and his stories of what happened veer off course, can we trust him to lead us to the truth? Can we trust ourselves to see it?
Wreck is an edge-of-your-seat, fast-paced drama about a young man suddenly thrust into the most desperate of circumstances.
Written by Leicester poet Toby Campion, winner of the 2015 Fifth Word Most Promising Playwright Award, this emotionally raw thriller will challenge your perceptions of our world and the stories behind the headlines.
Wreck performed at Nottingham Playhouse, 20th-30th September 2017
"So well-written and packed with unexpected events … suspenseful and gripping … the writing is naturalistic, theatrical, well realised and knife-sharp"
"A very impressive professional debut"
"An ambitious and bold piece … expertly constructed … a masterclass in staging"
"Absolutely brilliant … powerful and mesmerising"
Gallery
Toby Campion is an award winning British writer and spoken word artist, born and raised in Leicester. Placing second in the UK at the National Poetry Slam Championships 2014, Toby has won first runner up at the BBC Poetry Slam Grand Finals for the past 2 years running, placed runner up at the Roundhouse Poetry Slam Finals 2015 and represented the UK at the Capturing Fire International Poetry Summit 2015 in Washington, DC.
Toby performs his poetry, which has been featured on national networks including BBC1, BBC Radio 4 and E4, on stages across the UK and America. Events and festivals Toby has performed at include St. Anza International Poetry Festival, BBC Mainstage at Edinburgh Fringe Festival, Globe Road Poetry Festival, Bestival, Camp Bestival, Lovebox, Greenbelt, Blissfields, SoFar Sounds, Nottingham Poetry Festival and Last Word Poetry Festival at the Roundhouse. Co-host of the monthly East Midlands spoken word night, Find the Right Words, Toby organises the UK National University Poetry Slam and Summit, UniSlam. Toby was winner of the Fifth Word Theatre award for Most Promising Playwright 2015. Toby is also a member of Spare the Poets collective and Curve Theatre's Writers Lab.
Writer: Toby Campion
Director: Alexandra Moxon
Set designer: Abi Keating
Lighting designer: Tom Mowat
Sound designer: Tom Mowat
Cast: Luke Grant
Supported by the National Lottery through Arts Council England