See Me
A new creative project for Muslim young women in the East Midlands
SEE ME is a creative participation project we are running over Spring-Summer 2023, alongside the development of our next play, LIBERATION SQUARES by Sonali Bhattacharyya.
We are working with young Muslim women in the East Midlands, supported by funding from Awards for All and the Thomas Farr Charity. We're running a series of free weekly sessions for Nottingham-based Muslim women aged 16-22, where they will collaborate with us to create their own graphic novel inspired by the story and themes of LIBERATION SQUARES. Sessions will be led by illustrator Sayra Begum, and there will also be the opportunity to talk with Sonali about the play's story and themes, to influence the further development of the script.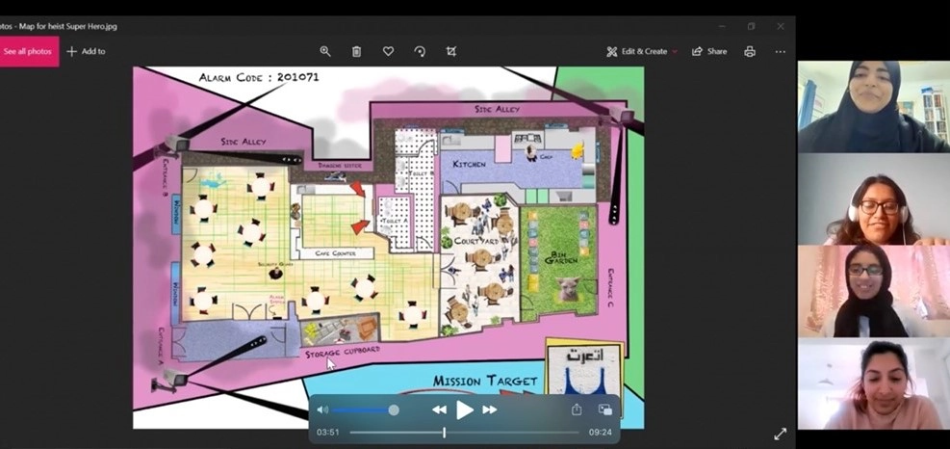 This project follows on from initial participation work that we ran in Spring 2021, with funding from Arts Council England. We held a series of weekly Zoom workshops with Muslim teenage girls from Derby and Nottingham: giving them the opportunity to feed into the development of LIBERATION SQUARES.
The group discussed the themes, explored their own experiences of being a Muslim teenager, and shared some perspectives around how the themes relate to their own lives. These contributions have been vital in shaping the further development of the script, influencing Sonali's thoughts around the character developments and plot.
LIBERATION SQUARES is a new, subversive heist comedy about three teenage Muslim schoolgirls, who are as influenced by women resistance fighters in Rojava as they are by Ms Marvel, and whose adolescence is as complex, infuriating and joyous as any teenagers' but with the added complications of Islamophobia and cultural erasure. The play puts young female agency centre stage, while delving into the particular challenges faced by Muslim young women, and exploring wider themes including the impact of gentrification, heightened Islamophobia in the UK post- 9/11, and the government's controversial 'Prevent' programme. After the successes of her plays TWO BILLION BEATS and CHASING HARES in 2022, we're thrilled to be working with Sonali to realise this important story.
Watch this space for further opportunities for Muslim women and girls to contribute to the conversation around this play: Coming Soon.