All The Little Lights
A Fifth Word and Nottingham Playhouse co-production
JOINT WINNER OF THE GEORGE DEVINE AWARD 2016.
Nominated for Best Play at the Writers' Guild Awards 2017 and Best New Play at the Off West End Awards
ALL THE LITTLE LIGHTS previewed at Derby Theatre, the Old Library Mansfield and Nottingham Playhouse in autumn 2015. It then toured across the UK, followed by a 4-week run at the Arcola Theatre in London, in 2017.
"I know you want what everyone else wants. A family. A home. But you'll never have it. Cos of what's inside you."
Joanne and Lisa were like sisters. Then Lisa got away. Now she's back, but the ghosts from their past still haunt her. While Amy just wants to belong.
Three forgotten girls spending one last night by the railway lines. Desperately trying to recover what they've lost. Friendship. Family. Safety. While the threat of sexual exploitation lurks in the shadows.
Deeply moving and darkly funny, this award-winning new play tells the story of the girls that slip through the cracks. In a world where nobody wants you, what would you do to survive?
Developed with support from child sexual exploitation awareness charity Safe and Sound.
Suitable for ages 14+
"An extraordinary achievement of writer, director and actors… deeply affecting work on a too-urgent subject"
"The action is utterly engrossing, fresh and theatrically exciting … this electric play does the seemingly impossible: it outshines its former superb self."
"A brave and timely play laced with humour and full of characters to care about … this couldn't be more timely or more important."
"Terrifically realistic and darkly funny performances…truly extra-ordinary and moving theatre"
Quite simply devastating … a potent reminder of the power of theatre…All the Little Lights is more than thought-provoking, it is transformative as well as entertaining
"sixty minutes of pure captivating theatre … The writing is subtle and brilliant"
"Uncomfortably compelling … an emotional rollercoaster ride through a belated 15th birthday party where the unspoken speaks loudest"
"Laura Ford's production is brought to raw, unrelenting life by Orange-Turner, Esther-Grace Button as Amy and Sarah Hoare as Lisa"
"Three talented performers weave real-time voodoo from an electric script"
"an extraordinary, brave and shockingly real production that must be seen."
"A rare, beautiful piece of theatre"
Gallery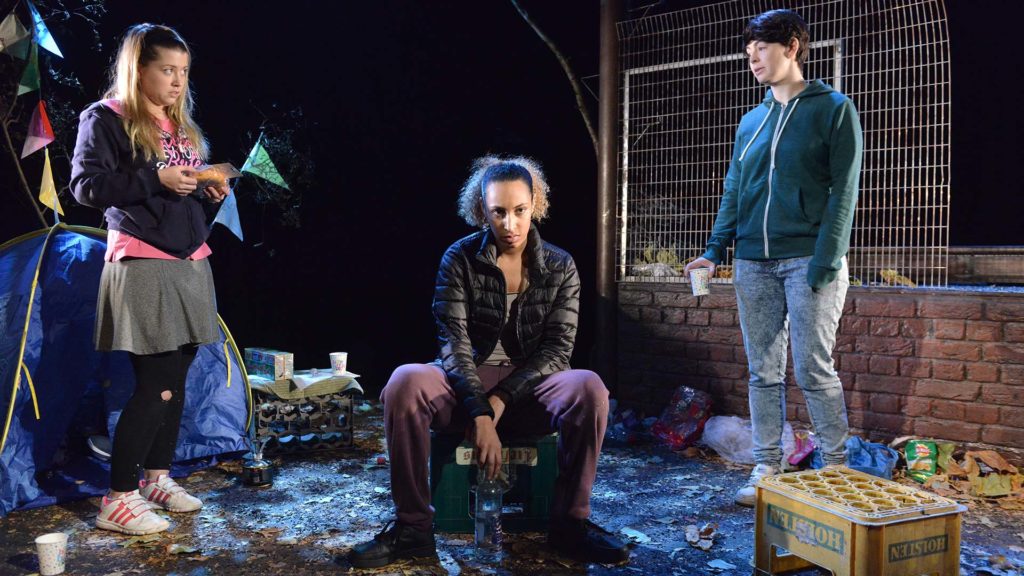 Writer: Jane Upton
Director: Laura Ford
Associate Director: Angharad Jones
Assistant Director: Tilly Branson
Set and Costume Design: Max Dorey
Sound Design: Max Pappenheim
Lighting Design: Alex Stafford
Producer: Corinne Salisbury
Nottingham Playhouse
Cast, Doncaster
Theatre Royal Wakefield
Birmingham Rep
Ffwrnes Theatre, Llanelli
Mercury Theatre, Colchester
Hull Truck Theatre
Quarry Theatre, Bedford
Tron Theatre, Glasgow
Oxford Playhouse
Stamford Arts Centre
Marlowe Theatre, Canterbury
Theatre Royal Plymouth
Arcola Theatre, London
Supported by the National Lottery through Arts Council England