Just before LAVA rehearsals moved to Nottingham Playhouse, we spoke to Nottingham born actress Emma Pallant who plays Vicky. Vicky is mum to Vin, a young man who stopped speaking after an asteroid devastates London.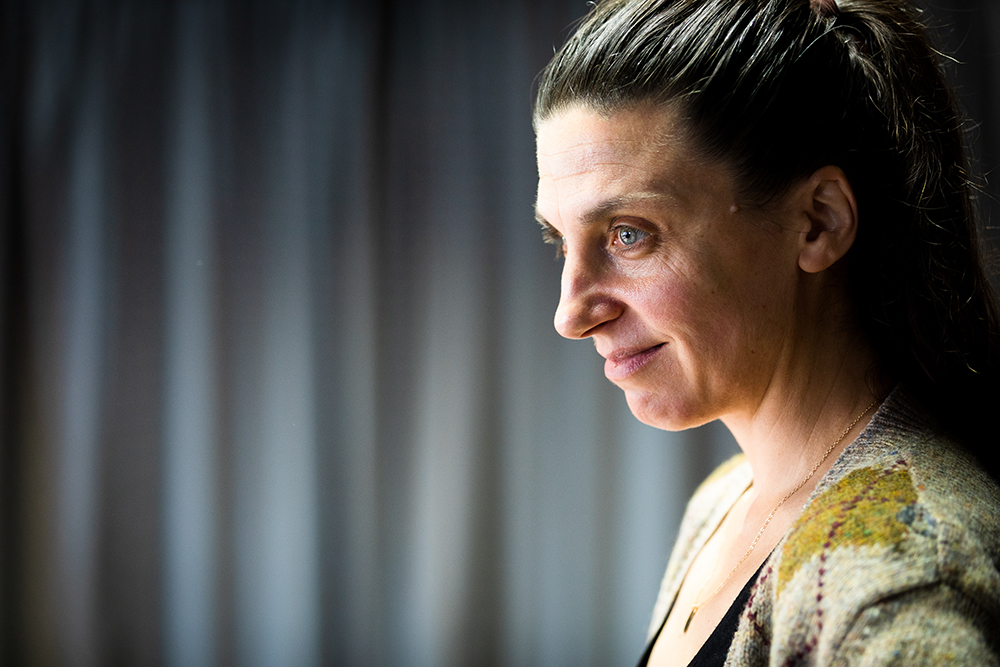 How do you feel about coming to perform at Nottingham playhouse?
Really looking forward to it, very excited!
It's somewhere I've always wanted to work when I was a student in Nottingham at Bilborough College. When I was doing my A-Levels we had to go and see a certain number of plays in a term and I would always go to Nottingham Playhouse – even going back and see things more than once.
It's where I fell in love with theatre I suppose so it's always been somewhere that I've wanted to work. It means a lot.
What drew you to LAVA?
I was really intrigued by the idea of portraying duologues with one person who is silent.
I think that's a really interesting way of showing that in a conversation people aren't always communicating through language. There are people who communicate in many other different ways. Even people who do use language they often don't say directly what they mean or they run out of words or lose their confidence.
It's an intriguing prospect when you're looking at character – looking at how a different personality uses language but also how someone who literally has language taken away from them communicates.
LAVA deals with lots of big issues like grief, depression and how our happiness or mental health relates to other people's. However, some audiences might be surprised by the amount of humour there is.
Tell us a little more about that?
I always think you have to have humour inside anything dark – the great writers always put the two together – the light and the shade, the comic and the tragic.
You can't bombard an audience with one colour – you have to let them see a range of shades of humour and texture and going back to the characters.
That's what we do when we walk through life. We're constantly being confronted by different emotions and different situations.
What would you say to someone in Nottingham who is deciding whether they should buy a ticket?
I'd tell people that what's special about this is that it is being made NOW, for an audience NOW and for an audience in Nottingham Playhouse.
I think that happens so rarely. Very often plays are adaptations or translations or revivals and it's a great opportunity to see a play made for your local theatre, your local space and it's also very present. We're constantly changing it every day in rehearsals so it's up to the minute.
LAVA has its world premiere at Nottingham Playhouse and runs from Friday 15th – Saturday 30th June.
Tickets are available from the Nottingham Playhouse website HERE