Welcome to a little update and peek into the rehearsal room for BONES NATIONAL TOUR.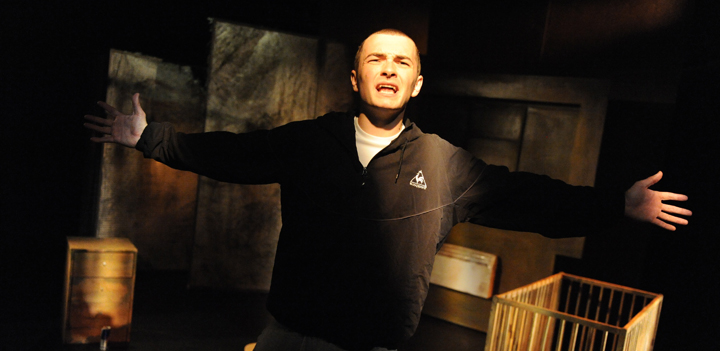 It was over two years ago now that we first read Jane Upton's script for BONES, handed to us by Esther Richardson who said we might find it interesting. I first read it without looking at the name of the author, I like to do that when a new script comes in. After I finished I commented 'He has real talent, this writer!'
When we met Jane Upton for the first time at Derby Theatre, I was struck by her gentle manner and quiet voice and wondered how she had written so convincingly the part of a 19 year old boy with the weight of the world on his shoulders. BONES was first developed as a scratch piece for our new writing night EXPOSURE. It was clear to us then that the audience loved it and that  it had something special that really fitted with the work of our company – which was exactly the reason why EXPOSURE was set up.
In 2011 we took BONES to the Edinburgh Festival where it played to critical acclaim. This is in no small part down to the actor JOE DOHERTY.  Joe is a Nottingham lad born and bred who was given his 'break' by Scottish film director Kenny Glennan who cast him next to Robert Carlyle in film SUMMER. He has recently been seen in hit film The Weekend and BBC's The Accused.
BONES played to sell out audiences and was on the cover of FEST magazine as well as receiving numerous five and four star reviews. When we returned from Edinburgh we put the wheels into motion to submit a funding application to Arts Council England to tour nationally and approached interested venues. With Bones being set in Nottingham and Artistic director of Nottingham playhouses, Giles Croft, being a champion of new writing it seemed like a natural partnership.
The BONES tour is in association with Nottingham Playhouse and opens in their newly named Neville Studio on 28th September. And here we are,  two years after first reading Bones, The Character of Mark is now deeply real in our lives and we're happy to share him with audiences and theatres across the UK. Full tour dates can be found on our homepage – we'd love it if you could join us.
Here are some show photos and clips of rehearsal… Enjoy!
http://www.youtube.com/embed/Sa8LyLcTjYU?rel=0